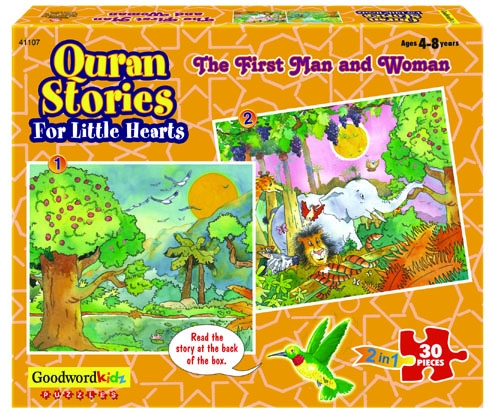 Quran Stories For Little Hearts Puzzle: The First Man And Woman
Goodwordkidz
Availability:

In Stock

Product Code:

CGB9

Brand:

20% Discount on this item
---
Out of stock
Please contact us
These attractive puzzles are designed so beautifully that it will capture Little Heartís minds with curiosity and interest, and fulfill their desire for fun. These simple yet beautiful puzzles will put young minds into a fascinating world of fun and learning. The idea behind these puzzles is to introduce Little Hearts to the most delightful Islamic stories by allowing them to unwind their boundless imaginative power. These puzzles provide fun, education and an opportunity for them to explore their creativity besides being a source for sound Quranic teachings.
This box set of 2 different Islamic puzzles, for ages 4-8 years old, are colorful stories based on Qur'anic stories. They aid children in learning about the timeless tales from the Qur'an, in an engaging jigsaw puzzle.
Additional Informations
Coming soon...
Also Purchased
Below are a few additional products purchased with this product.